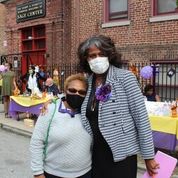 Sage II at Monarch View Groundbreaking Event
What a glorious day this was. Our families, friends, local politicians, and community members came together to celebrate our Sage II at Monarch View groundbreaking event. This event was not only special because of our five new townhomes, we also celebrated 15 years of providing Baltimore City families with reunification assistance!
City Council President, Brandon Scott shared words of encouragement and showed his support for The Family Recovery Program, Inc. (FRP). Joyous moments like this are few and far between so we laughed, danced, and enjoyed it all while wearing our masks and practicing social distancing. Former FRP parent, Monique K. shared her story and how FRP has helped her and encouraged her to keep moving forward. Monique encouraged current residence to utilize the support they receive from FRP because it is life changing.
Dr. Jocelyn Gainers, Executive Director of FRP, Shannon Snow of Episcopal Housing Corporation, Jennifer Rosen, JD of the Department of Social Services, Dayna Harris of Maryland Department of Housing and Community Development and Roxanne Umphery Board Chair of FRP all came together to cut the ribbon for the ribbon cutting ceremony. John Friedel, the Executive Director of The Baltimore Station spoke on his relationship with FRP and how he has watched FRP blossom through the years.
This event was so much more than just celebrating the acquisition of these five new townhomes, this was a celebration for FRP being able to provide long-term housing solutions for the families that we serve. Every family deserves a fighting chance, and we are here to make that happen.
[Best_Wordpress_Gallery id="57″ gal_title="Sage II at Monarch View Groundbreaking Event"]
Related Posts
The Department of Justice's Office of Juvenile Justice and Delinquency Prevention...