FRP All Staff Retreat
Our Annual Staff Retreat was a Hit!! A Construction Site Themed and decorated community room was filled with hardhats and yellow vests. We came together to discuss "Building a Foundation for the Future". We spent the day hearing our Executive Director share what it takes to build a solid foundation for our organization, in addition to tons of fun and laughter that filled our day! Some of the highlights of the day were the activities we had planned for our staff: Build me up, Buttercup: a chance for staff to share what they like/love about each other. Soundtrack of My Life: each staff submitted a song that best describes their lives. What fun! The best activity of the day was seeing teams come together to build a house out of random objects! We have some creative folks on our staff! Jumbo Jenga and Connect Four kept us entertained while we enjoyed a delicious Taco Bar for lunch, outside in our backyard. Here's to another successful year at FRP!
[Best_Wordpress_Gallery id="120″ gal_title="FRP All Staff Retreat 9.2021″]
Related Posts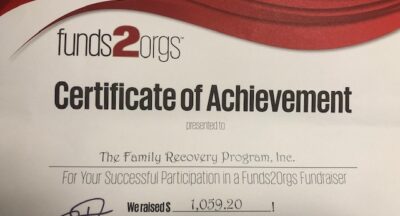 On October 15, 2020, we received our certificate of completion for our Shoe...